Warehouse & secure storage
Wide range of warehouse storage options to suit your needs
Secure Warehouse Services
MSL (UK) Ltd is a well established Storage and Warehousing Facility, which prides itself on its personal levels of customer service. It has 210,000 sq. ft. (19.510 sq. mtrs.) of dry secure warehousing space, ideally located close to motorway network and just 10 minutes from Manchester City Centre.
Storage facility
We offer 110,000 sq. ft. (10.219 sq. mtrs.) of dry secure warehousing for whatever your requirements may be.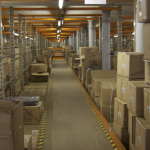 Being a secure warehouse means that we can receive and store goods which are imported into the UK.
Store your goods and stock in a single premium quality location. This will save you time and cut your costs, as well as simplifying your own procedures.
Warehouse Storage

It doesn't matter what the size of your business is. We can help you to drive your business forward by providing the highest of standards in storage and warehousing facilities in our purpose built warehouse.
We receive your goods in many forms including container, pallet, cartons, and more.
We unload your goods, checking that they the quantities on your delivery note or packing list, then allocate the space required in our secure warehouse, until we receive your instructions.
Our high quality secure warehousing and storage services will meet your every requirement.
Document archiving
MSL (UK) Ltd Document Record Management is a division that deals with document storage for professional clients. The service includes full collection and retrieval services, together with on-site scanning of documents, which are put on CD's for the customers own use if required.
Bankers Boxes can be supplied at very competitive costs.